Automatic wire straightening and cutting machine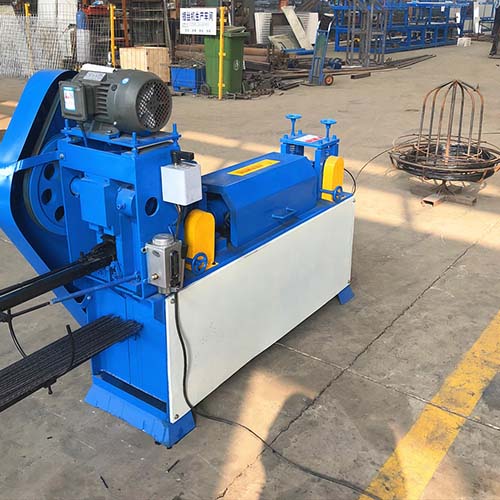 Description of machine:
1.The equipment is mainly used for automatically straighten stainless steel wire, galvanized wire, aluminum wire, cooper wire, and cut automatically according to the preset lengh.
2.Automatic wire straightening and cutting machine operation and maintenance are simple. It is mainly used for straightening and cutting the wire with diameter less than 6mm and the maximum cutting length is less than 2 metres.(But we can set the length of wire according to customer's requirement).
3.Automatic wire straightening and cutting machine processing performance is strong, almost can process any diameter, any length of wire, high degree of automation, automatically set straightening and cutting length, Mainly used for straightening and cutting building cold-rolled steel wire and rebar, hot-rolled steel wire, hot-rolled round steel wire and cold-rolled steel bar etc.
4.The straightening machine is composed of a frame, a straightening mechanism, a feeding mechanism, a cutting mechanism, a linear gun and a wire frame.
5.The straightening part is composed of a straightening shaft, a straightening pressing block and two bearing blocks to complete the straightening work of the wire, the power is the motor mounted under the machine frame, and the straightening shaft is rotated at a high speed by the triangular tape.
6.The feeding wheel/ the cutter, etc. are made of excellent alloy steel and are vacuum-treated to make them wear-resistant and have a long service life. Straightening block are made of cast iron\alloy\plastic king, etc. All shafts are made of 40CR or 45# steel and are quenched and tempered. The gears are all made of forging blanks, quenched and tempered and tooth surface high-frequency quenched, the hardness is up to HRC55-58 degrees. It is suitable for galvanizing wire, powder drawing wire, water drawing wire and stainless steel wire to ensure no flaw on the surface of the wire.
Mechanical advantage :
1. Adopt the totally enclosed type case, featured with high security.
2. The straightening motive power came from the large power motor which can ensure a long time stable operation.
3. The installation of traction and straightening motive power adopt adjustable structure, which is easy to maintain.
4. Adopt cartridge valve, featured with compact structure and convenient adjustment.
5. The oil-way controlling part is hidden under the panel which can resist dust effctively.
6. The feed inlet adopt rotary scuff sleeve, featured with simple structure and easy change.
7. Part of the funnel structure was closed which is convenient for dust-cleannig.
8. The structure of the cradle is more resonable, as well as new appearance.
Automatic wire straightening and cuttong machine

1. Worry-saving: The main components can last for ten years which almost cost you nothing for maintenance.
2. Time-saving: two times the cutting number of the normal steel bar cutter.
3. Labor-saving: Cut different sizes of steel bar without changing the blade.
4. Easy operation.
5. Precise straightening : the straightness of straightening wire is ±1mm
Technical Parameter :