Manual Adjustable Container Loading Mobile Dock Ramp
Container Ramp is a very practical equipment. It can be moved to any available place. According to the carrying capacities, the mobile loading and unloading gap bridges can be divided into 6,8,10,12 tons types.
It is widely used in loading and unloading sites, usually ancillary equipments which can be used with the forklifts for loading and unloading goods. Their height can be adjusted according to the height of cars. With the help of the equipment , the forklifts can drive into the carriage to carry out batch loading and unloading tasks.
Safe and rapid load and unload of goods can be realize by individual and the electric power is unnecessary, It is not only can help you reduce labor intensity but can significantly improve loading and unloading rate and speed the material velocity of circulation, achieving the best economic benefit.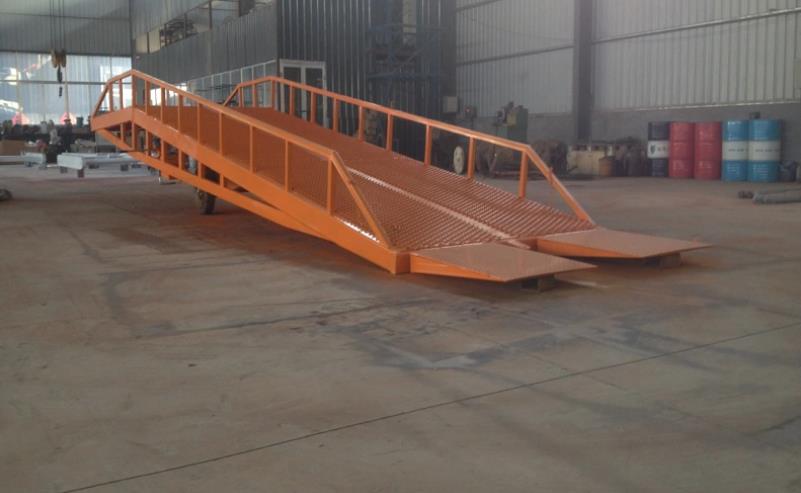 Main Characteristic

1.This model are economical type, without supporting leg
2. Make high efficiency material handling, only one person is workable.
3. Match perfect to forklift , height adjustable, with tries , easy for move place.
4. Power Units: Manual Hydraulic Station, no need AC power, no sparks.
5. Anti-rust ,water-proof, anti-skip, explosion proof, can use normal in rainy snowy day.
6.High quality seal components from Japan NOK, reliable quality to clear any worry about oil leakage.
7. Platform surface is with anti-slip design, will never deformation(anti-slip density:30*25mm)
8.Manual operating hydraulic system, the operating handle is very friendly, work comfortably.
9.Security Protection -Steel chains to fix dock leveler and containers, avoid big displacement.