Rebar Hydraulic CNC Hoop Bending Machine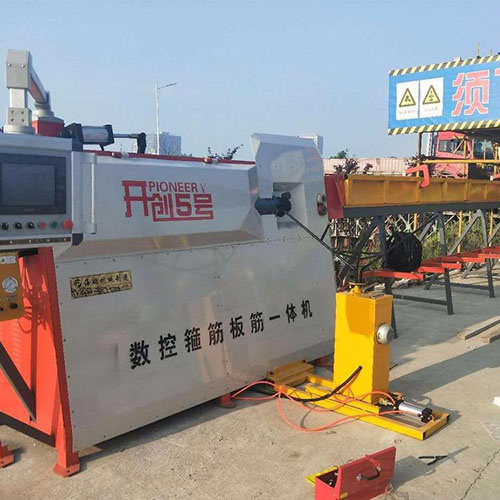 Steel Rebar Stirrup Bender / Hoop Bending Machine from feeding, descaling, straightening extends curved shape, cut a variety of processes single one alive, directly produced a variety of specifications of various sizes, fully meet the design requirements . A variety of specifications can be processed in various sizes square, rectangle , diamond, polygon, etc.
Steel Rebar Stirrup Bender / Hoop Bending Machine can automatically complete straightening steel , length, bend-shaping and cutting and other functions , saving time , high production efficiency can be achieved automatic , uninterrupted processing operation .
Steel Rebar Stirrup Bender / Hoop Bending Machine is widely used in railways ,highways , bridges , real estate, steel plants and other larges areas.
Stirrup bender properties: automatic straightening, bending and cutting in one shape.
Hydraulic Control
Accuracy<1mm
Bending shape>800
Max bending diameter 14mm
CHARACTERISTIC:
1.Automatic wire feeding system ( CNC ).
2.Moveable air compressor design, to ensure better cooling effect, easy transportation and installation
3.Split, multi-blade design to reduce consumption costs
4.Large storage capacity can save 500 processing geometric graphics, high degree automation
5.Automatic double wire intake system, high processing efficiency
6. High power feeding motor to ensure bending bar accuracy.
7.The intelligent fault identification alarm system maintenance more convenient
8. Aerodynamic design observation door, easy adjustment and maintenance, and more security and fast.
9.Heavy-duty design line planes, equipped with a brake and buffer device can prevent chaotic lines caused by downtime
10. High quality special material and high treatment to make straightening wheels, traction wheels, the metering wheel, longer life with lower operating costs
11. 12S type - Touch-screen pannel, easy to operate, and more fast
Parameters of Steel Rebar Stirrup Bender / Hoop Bending Machine for reference: